Checks and Security Printing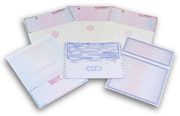 Documents You Should be Concerned About
(Partial List)
| | | |
| --- | --- | --- |
| Checks | Gift Certificates | Coupons |
| Point of Sale Receipts | Birth Certificates | Property Titles |
| Software Licenses | Powers of Attorney | School Transcripts & Diplomas |
Virtually any document that conveys a negotiable face value or worth is suspect to counterfeit or fraud.
Omega techniques for layering overt and covert deterrent features satisfy a businesses need to perform due diligence.
Overt features serve as a visible deterrent

Covert features are difficult to recreate, often even to find, and provide a means of authenticating a document.
Reasons to Layer Security Features
Provides a deterrent against multiple forms of fraud
Gives you the ability to authenticate an original document
Layering of features fulfills your obligation of due diligence and transfers responsibility
Our techniques may save you money you never knew you were losing.
Full List of Available Security Features
Security Features for Laser Printer Documents
MICR Numbering - Questions & Answers
Interesting Facts
Counterfeiting crimes exceed the combined totals of burglary and drug related crimes in the U.S.

Fraud and counterfeiting is at an all time high throughout the world

The FBI does not investigate bank fraud unless it exceeds $100,000

The advent and enhanced development of desktop publishing and optical reproduction technologies has made it relatively easy for the professional criminal and amateur alike to have ready access to the tools necessary to re-create a negotiable document.
Be Aware - Where there's a will, there's a way!
No security feature available is 100% effective. If someone is determined to commit fraud they may. Your goal and ours is to complicate this occurrence.