(818) 928-1060
October 2007, Omega Receives 2007 PEAK Grand Award In the
Document Security Category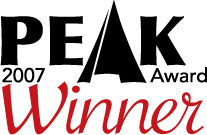 Using true watermark paper with embedded images, heat sensitive ink, holograms, a proprietary anti-copy background with microscopic text and more, this document,
The PEAK Judges said about Omega's document...
"This document will be difficult to alter. When it comes to document security you have to have overkill and this has it."
The document the judges refer to is used by a refinery operations inspection firm that certifies the results of it test findings and audits.
Before redesign the firms certificates lacked security features necessary to protect them from alterations. This led to the integrity of the firms reports, and those of their competitors, being questioned by government auditors in regions of South America, where fraudulent reporting due to forgery had become quite prevalent leading to significant financial loss.
The circumstance of fraud was so significant that inspection operations were suspended threatening the firms pullout from a significant marketplace. Omega's redesign allowed the firm to reposition prior to their competition and gain government acceptance leading to business growth and profit.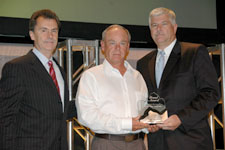 The award recognizing excellence in printing that improves productivity, sponsored by Print Solutions Magazine, was presented at the Print Services & Distribution Association 2007 Annual Meeting in Las Vegas Nevada on October 18, 2007.
(Pictured left to right)
James M. Riley, CDC (PSDA 2007 President)
Cris Highnote (Manufacturer's Representative)
Rob Montgomery (Omega Business Products, President)
Omega lived up to our slogan...
Solutions for Enhanced Productivity with Print and Electronic Communications
Omega Business Products relocated business offices on Monday April 11,2005.
This move also established a secondary warehouse facility that in addition to our primary distribution center in Walnut California is now assisting to serve the needs of client's in the San Fernando and Santa Clarita Valley's of California.
Please note that in addition to our new address our phone and fax numbers have also changed.
New Phone: (818) 252-7650
New Fax: (818) 252-7645
New Street Address:
Omega Business Products
9980 Glenoaks Blvd., Unit A
Sun Valley, CA 91352
Our Mailing and Remittance address remains the same:
Omega Business Products
PO Box 608
La Canada, CA 91012-0608
We'd appreciate it if you would please update your records.
New Upgraded Document Security Features
Due to our commitment to protect our clients' documents we continually are looking for ways to enhance the security technologies we offer.
This focus has led to our inclusion of layered security features that impede the ease in which sensitive documents may be fraudulently reproduced or altered.
Unique fourdrinier true watermark paper
We have long endorsed the use of an artificial watermark as a deterrent against fraud. Unfortunately, because it can now be easily printed and it is readily accessible over the Internet, the criminals are now counterfeiting their versions of this paper.
Therefore, effective immediately we will be replacing the standard Ghost artificial watermark paper with a unique fourdrinier true watermark paper. A true watermark paper is considered one of the highest levels of document security available, although its higher cost generally makes it prohibitive. The really great news for you is that because of our security paper volume, we are able to offer this to you at the same price.
Click here to learn more about our Unique Fourdrinier Watermark Paper

NaNocopyTM Check Background
This background offers protection via a NaNo encrypted algorithm. This encrypted technology is designed to create a voided copy when scanned or photocopied. We hesitate to say that it is 100% effective, but presently we are not aware of failure.
Call (818) 957-0071 or E-mail your Omega Representative for more information
Custom Labeling Solutions for any need


Labels, Nameplates, Control Panels, Asset Tags,
Product ID Labels,
ANSI Warning Labels
and more.

| | | |
| --- | --- | --- |
| Control Panels | Product Labels | Asset Tags |
| Promo Labels | ANSI Warning | Nameplates |
What can we do for you?
Omega expands in-house laser print capacity for client outsourcing of projects.
New 1200 dpi 35 page per minute laser printer expands capabilities for short run client projects (ie: books, manuals, data merged documents, bar coded forms and labels)
This latest addition, along with existing long-run laser and thermal printing capability, rounds out Omega's ability to support clients special and regular processing needs.
DIGITAL COLOR
Now at OmegaOnline you may learn more about, or even get quotes for digital color printing.
Ideal for Short Run Color and/or Prototyping.
Just click on any DIGITAL COLOR hyperlink for immediate access.
Expansion of Hardware and Software product lines to include a wide variety of:
Printers, Scanners, Point of Sale Systems and Related Software.
Click Here or contact your Omega for information and pricing.
6,000 Products Now On-Line
Guests of OmegaOnline may now search for Promotional Products, obtain or request pricing and submit orders directly from their desktop 24/7
Click Here
Promotional product electronic mock-up capability and customized e-mail proposal. Contact your Omega representative for more information.
Omega Expands Blanket Order Policy,
which has long been available to our label clients, to now include custom form printing. This service will establish form orders, with volume based pricing, to be "Billed as Released" from our warehouse to our clients. Contact your Omega representative for more information and minimums.
Omega re-invests in operations software
Similar to our existing system, which is fully integrated with all aspects of of client ordering, history, inventory control and accounting, the new system will replace and build upon those strengths while adding:
Report customizing
Client Company Stores , E-Commerce Product Catalogs
On-Line services (report viewing / requisitioning / imprint creation for items such as business cards / warehouse releases / ordering and re-ordering.
The system and new services are now available and many clients are now realizing the benefit of this resource. To learn more about company stores, and how Omega may streamline and enhance your order processing procedures go to:
Company Store Information
---
This is a new feature of our site added in 2001 so guests may follow our updates:
6/15/01
Company Stores rolled out to any client desiring on-line services. These services will provide clients with 24/7 access to their unique catalog of products for ordering, job tracking and customized reporting.

A special feature included for products requiring personalization (i.e.: business cards, stationery, envelopes, etc.) allows users to enter imprint information, immediately view a proof and submit an item for production. Click Here to learn more

6/1/01
New "Event Bag" specials added to Specials area.
4/3/01
Upgraded Security Features
3/12/01
On-Line Short-Run Rapid Turn-Around Custom Labeling Solutions for any need.
Any Time... Any Size... Any Shape... Any Color... Any Design
Click Here to learn more
3/1/01
OmegaOnline web site moves to a secure server with two T1 communication lines. This move provides faster more secure access and data exchange, which will enhance client communication performance. This enhancement will be of special benefit to clients when viewing their unique catalog of products, ordering and creating custom reports from Omega's soon to be launched "Company Store" service.
1/11/01
Now you may learn more about, or even get quotes for digital color printing. Ideal for short run or color and/or prototyping. Just click on any DIGITAL COLOR hyperlink for immediate access.
1/10/01
Over 40 New hardware and software manufacturer links added for your research ease.
1/8/01
Addition of 6,000 new Promotional Products that you may search on-line. This feature allows you, our guest, to search from categories of products that have been pre-selected in order to provide ideas and simplify the experience. This tool is in addition to our existing search capability that lets guests search over 9,000 manufacturers and 60,000 products, and also allows for specified criteria to be part of the search. Once an item is decided upon a RFQ or order may be submitted.
1/8/01
User interface re-design for easier navigation and Macintosh compatibility. We hope you'll find our recently designed look both more pleasing to the eye and convenient to navigate.
12/00
Self Mailer Products and Mailing Equipment
---
| | | |
| --- | --- | --- |
| Article Title | Publication Name | Article Date |
| Cover Story: "Innovations PEAK Louder Than Words" | Print Solutions | August 2007 |
| "Internet Technology" | Information Management Report (IMR), Document Management Industries Assoc. | November, 2000 |
| "Breaking Through" | Reno Air Approach | November, 1998 |
| Technology: "From Competitor's to Comrades" | FORM Magazine | May, 1995 |