Applications are endless with PhoneCards!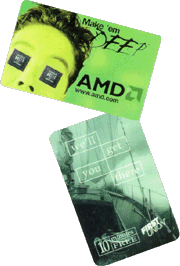 Book Release: PhoneCards die-cut into the shape of BookMarks were used to promote the legal thriller, The Tenth Justice in major cities around the country.

Coupon Promotion: A & E perforated half of the GiftCard to create a coupon offering a discount on a subscription.

Data Capture:

NationsBank sent a 60-minute PhoneCard to its customers. When they received their mailer, they dialed in and answered six brief questions to access their phone time.

Employee Incentive: Compaq gave their successful "President's Club" members a basket of rewards including a 30-minute PhoneCard.

Fundraiser: American Trails West, a summer teen tour, developed a way to help young travelers and their parents keep in touch. The graphic PhoneCard made the perfect gift to parents, and continuous recharging made the fundraiser a success.

Gift with Purchase: McRae's Department Store distributed PhoneCards to each bride-to-be that registered with their bridal department.

Holiday Promtion: During the winter holiday season, Bank of Boston scored and folded the GiftCard to resemble a holiday greeting card.

Increase Brand Awareness: PediaSure developed a graphic PhoneCard KeyChain to distribute at pediatricians' offices to increase brand recognition.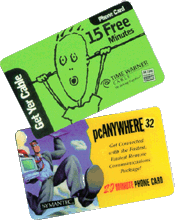 Job Recruitment: Tandem Computers used a 5-minute PhoneCard when recruiting potential new-hires attending college job fairs.
KeyChain: The Quaker State PhoneCard KeyChain was a great tie-in to the automotive industry.
Loyalty Program: Bank of New Hampshire rewarded new customers with 30 minutes of free phone time as a "thank you" for opening a new account.
Mother's Day Promotion: Colgate-Palmolive developed a promotion to salute Hispanic mothers on Mother's Day. The PhoneCards were distributed in grocery stores after the consumer showed proof of purchase of two Colgate-Palmolive products.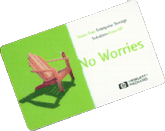 New Product Launch: Head USA die-cut a PhoneCard KeyChain to look exactly like its newest ski boot and rewarded new purchasers with free phone time.
On Pack: Fuji attached a Peel-A-Deal PhoneCard to film packages to combine the universal appeal and high-perceived value of a PhoneCard with the proven strength of peel-off coupons.
PhoneCards are the perfect promotional tool!
Quality Recognition: Employees at Friendly's Ice Cream chains were rewarded with free phone time for maintaining accident-free work places.
Retail: Natural Wonders found a great way to increase slow summer sales - a Mother's Day giveaway of free long distance! The store sent a mailer to its entire customer list offering a free "SuperMom" PhoneCard to anyone who brought back the coupon.
Sales Tool: Sales reps at Blue Cross Blue Shield used 10-minute PhoneCards as a way to build relationships with clients.
Tradeshow Giveaway: Arizona Instruments used PhoneCards to entice customers to view a demonstration of their new product at a major industry trade show.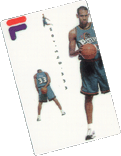 Universities: Time Warner Cable increased sales among local college students by rewarding students with free PhoneCards when they signed up at events on campus.
Vendor Relationship-Builder: Tropicana gave away colorful PhoneCards to entice store owners to give more shelf space to their product.
WXYZ…We'll brainstorm more ideas for you - and turn your next promotion into an award-winner!
Return to top
Return to Phone Card Page
Return to ID Card Page