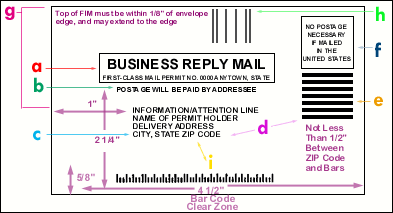 Minimum size is 3-1/2 x 5
If it is a card and it is larger than 4-1/4 x 6, the rate will be for an envelope, not a card.
The mail piece must have an aspect ratio of 1.3 to 2.5
A) Words "BUSINESS REPLY MAIL" must be all caps, at least 3/16" in height. Below that, in smaller type and all caps, "FIRST-CLASS MAIL PERMIT NO.00000 CITY/STATE" (city the permit was issued in).
B) This line should appear below the Business Reply "box" in caps.
C) The bottom line of the address must be no lower than 5/8" nor higher than 2 1/4" from the bottom edge of the letter size mailpiece.
D) At least 1/2" clearance between end of ZIP Code and horizontal bars.
E) Horizontal bars must be a minimum of 1" long and 1/16" to 3/16" thick and evenly spaced. Bars must not extend below the top of the delivery address line.
F) Indicia box should be the same width as horizontal bars (minimum 1"), wording must be identical to this example, and all in caps.
G) A company logo is permitted if it is located no lower than the top of the delivery address and does not interfere with any required endorsement.
H) Facing Identification Marks (FIM bars) Contact your local Post Office or Postal Business Center for correct barcode and FIM if you did not receive it when you were issued your permit, or if you need duplicates.
I) Unique ZIP+4 code is assigned exclusively for your Business Reply Mail permit and must be printed on your mailpiece.
NOTE: All forms of printing are permissible if they are legible to the satisfaction of the Postal Service. Printed borders are not authorized on Business Reply letters and cards. All ink colors are acceptable, if there is at least a 30% print reflectance difference (PRD) between the ink and the background material of the mailpiece in both the red and green spectrum when measured with a USPS licensed envelope reflectance meter. Fluorescent colors are generally not acceptable.